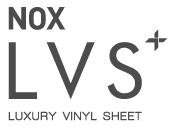 NOX LVS+ is the unprecedented luxury vinyl sheet flooring that offers ultra-premium functions. Its stability and durability are top-notch since NOX's unique multi-layer structure technology, EMT™ Core, secures superior dimensional stability.
The product is exclusively formulated by consolidating two technologies, NOX's SOUNDPROTEC™ and EMT™ Core, in order to achieve noise reduction and this structure also offers the best softness underfoot: NOX LVS+ is the first and the only flooring in South Korea certified by Quiet Mark.
In addition, the innovative coating technology, EPT™ (Eco-Pro-Tec) Shield, makes NOX LVS+ differentiated from others. EPT™ Shield is more hygienic, cleaner anti-mould that prevents mould propagation and secures strong scratch-resistance, stain-resistance and slip-resistance: slip-resistance function of NOX LVS+ is 1.5 times better than laminate flooring. By applying stereoscopic Embossed-in-Register (EIR), NOX LVS+ delivers more realistic designs.